French Film Festival – Friday, February 15, 2019, Cineplex SilverCity Metropolis
CPF Burnaby is pleased to present our 6th annual CPF Burnaby French Film Festival.
Here are this year's films: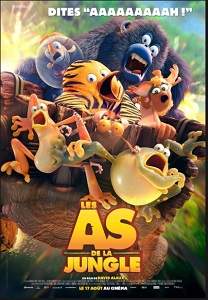 Primary
Les as de la jungle
Maurice ressemble en tous points à un pingouin, mais il a la fougue d'un tigre. Il a d'ailleurs été élevé par une maman tigresse, dont la vocation était de protéger l'ordre et la paix dans la jungle. Cette mission incombe maintenant à Maurice, aidé de ses amis, les As de la jungle. Ces complices devront cette fois affronter un koala parfaitement diabolique, qui a bien l'intention de propager le mal autour de lui à l'aide d'explosifs qu'il a lui-même concoctés avec des champignons. (2018, 1h37m)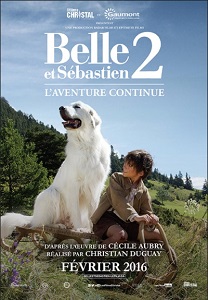 Intermediate
Belle et Sébastien 2, l'aventure continue
2 ans se sont écoulés depuis que Sébastien a rencontré Belle. La guerre est terminée, mais les jours heureux ne s'écoulent toujours pas au petit village, car Angelina est portée disparue suite à un écrasement d'avion quelque part dans des forêts transalpines. Nos inséparables et César, le grand-père de Sébastien, continuant d'espérer le retour de la petite, demandent l'aide de Pierre, aventurier aguerri habitué à ce genre d'expédition. Bien des épreuves et des embûches s'illustrent sur le chemin de Sébastien et sa fidèle compagne canine et c'est au coeur de ces péripéties qu'ils découvriront un secret bouleversant qui changera leur monde… (2013, 1h37m)
Secondary
Les aventures extraordinaires d'Adèle Blanc-Sec
En cette année 1912, Adèle Blanc-Sec, jeune journaliste intrépide, est prête à tout pour arriver à ses fins, y compris débarquer en Égypte et se retrouver aux prises avec des momies en tout genre. Au même moment à Paris, c'est la panique ! Un œuf de ptérodactyle, vieux de 136 millions d'années, a mystérieusement éclos sur une étagère du Jardin des Plantes, et l'oiseau sème la terreur dans le ciel de la capitale. Pas de quoi déstabiliser Adèle Blanc-Sec, do nt les aventures révèlent bien d'autres surprises extraordinaires… (2011, 1h47 m)
This is an exclusive event for the students of the Burnaby School District with support from CPF and the BC Ministry of Education.
Contact us for more information at: cpfburnabychapter@gmail.com